Class-leading features of the NP300 Navara put to the test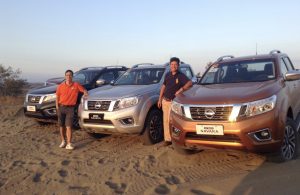 Manila, Philippines (February 24, 2015) – The Nissan Navara has always been synonymous with power and performance. It is well renowned for setting itself to a higher standard and leading the way for other pick-ups to follow. With the resounding success of its launch early this month, the 12th generation Navara is poised to raise the bar yet again.
After the long wait, Nissan Philippines, Inc. (NPI) proudly puts this tough and smart pick-up truck to the test by inviting 70 media guests to an exciting Navara Ride and Drive in Ilocos Norte so that they all see, feel and experience the class-leading features of the All-New NP300 Navara.
Power
Nissan prides itself in having the best lineup of engines and the YD25 certainly lives up to it. This new generation 2.5L DOHC in-line four-cylinder Variable Geometry System (VGS) diesel engine has the highest power output per displacement in its segment. The 4×4 variant puts out 190 PS and 450 Nm of torque while the 4×2 variant offers 163 PS and 403 Nm of torque.
A segment-exclusive feature on the NP300 Navara is the 7-speed automatic gearbox with manual mode. Used as well by the Nissan 370Z sports coupe among others, it offers a wider range of speed with an expanded gear ratio while providing better acceleration, smoother shifting and reduced fuel consumption even at low speeds.
A 6-speed manual gearbox is also available for more transmission control and increased fuel efficiency.
This powertrain combination gives the NP300 Navara the class leading fuel efficiency and emission ratings.
Performance
Ready to take on the most demanding challenge, the NP300 Navara was designed and developed to carry heavy loads while keeping up with today's active lifestyle.
Using a full-length fully boxed ladder frame that adds torsional stiffness and a Rigid 5-Link Coil Suspension armed with stabilizer bars, passengers are assured of utmost durability without sacrificing comfort even in the most unforgiving terrain.
Slightly longer than the previous model, the NP300 Navara managed to reduce the wheelbase by 50mm to enhance agility and maneuverability whether in off-road situations or simple city driving.
Never hesitate to take on the roughest terrain with the NP300 Navara's electric shift-on-the-fly 4×4 system allowing you to engage it even while in motion.
Your safety is Nissan's number one priority, that's why it also comes with highly advanced features like VDC (Vehicle Dynamic Control), ABLS (Active Brake Limited Slip), HSA (Hill Start Assist), HDC (Hill Descent Control) and Traction Control System (TCS).
Design
The NP300 Navara showcases a sportier style while staying true to Nissan's design philosophy. With a more pronounced beltline and a first-in-its-class boomerang-shaped LED Daytime Running Headlamps that complement the "V-motion" motif that flows from the grille to the hood, the new Navara gets a distinct, attention-grabbing look that sets it apart from all other trucks.
The macho look of the Navara belies the subtle changes that has reduced its drag coefficient to 0.37 Cd, a great number for a vehicle this size. The dynamic convex and concave surfaces found on the doors along with the rear spoiler all contribute to its enhanced aerodynamics.
Inside, the NP300 Navara is as well endowed. Seats are finished with premium fabric and come with NASA-inspired Zero Gravity Seats technology that reduces fatigue by evenly distributing body pressure on the seating surface.
The Instrument Cluster Panel comes with Fine vision technology so that vehicle information, in whatever lighting condition, will be easy to read.
It comes with a 6-speaker infotainment system that doubles as the monitor for the backup camera. It has CD, MP3 and iPod compatibility along with Bluetooth connectivity for your smartphone. For ease of use, access any of these services along with Cruise Control using buttons found on the steering wheel.
Another segment-first is the Push Button Ignition proving that Nissan will do what it takes to provide its customers with unparalleled convenience.
Easily accessible functional trays and storage spaces are ergonomically placed for personal belongings and electronic devices.
"Nissan pickups are not just vehicles, they are the lifeblood of communities, and we are catering to that need by improving the much-loved pick-up. With 80 years of heritage, providing technologies comes as natural as possible. Nissan lives on the promise of providing innovation that excites and that's what we have been doing," said Antonio Zara, NPI President and Managing Director.
It set the bar before, now it's doing it again. The next generation pick-up is finally here, the All-New Nissan NP300 Navara.
Pricing
The All-New NP300 is available in Savanna Orange, Galaxy Black, Brilliant Silver and Alpine White.
Introductory price set at:
PhP 1,490,000 4×4 VL 7-Speed
Php 1,421,000 4×4 VL 6-speed M/T
Php 1,256,000 4×4 EL 6-speed M/T
Php 1,108,000 4×2 EL 7-speed A/T Calibre
Php 1,038,000 4×2 EL 6-speed M/T Calibre
Php 938,000 4×2 6-speed M/T Calibre
Php 898,000 4×2 6-Speed M/T
Visit your nearest Nissan dealership and get to experience the All-New NP300 Navara. For more information on our products and services, visit our website, at www.nissan.ph.