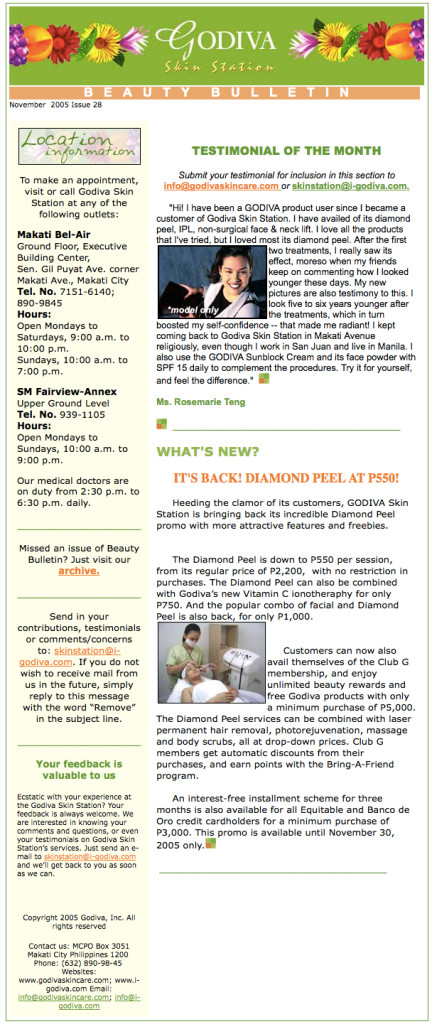 TESTIMONIAL OF THE MONTH
Submit your testimonial for inclusion in this section to info@godivaskincare.com or skinstation@i-godiva.com.
"Hi! I have been a GODIVA product user since I became a customer of Godiva Skin Station. I have availed of its diamond peel, IPL, non-surgical face & neck lift. I love all the products that I've tried, but I loved most its diamond peel. After the first two treatments, I really saw its effect, moreso when my friends keep on commenting how I looked younger these days. My new pictures are also testimony to this. I look five to six years younger after the treatments, which in turn boosted my self-confidence — that made me radiant! I kept coming back to Godiva Skin Station in Makati Avenue religiously, even though I work in San Juan and live in Manila. I also use the GODIVA Sunblock Cream and its face powder with SPF 15 daily to complement the procedures. Try it for yourself, and feel the difference."
Ms. Rosemarie Teng
________________________________________
WHAT'S NEW?
IT'S BACK! DIAMOND PEEL AT P550!
Heeding the clamor of its customers, GODIVA Skin Station is bringing back its incredible Diamond Peel promo with more attractive features and freebies.
The Diamond Peel is down to P550 per session, from its regular price of P2,200, with no restriction in purchases. The Diamond Peel can also be combined with Godiva's new Vitamin C ionotheraphy for only P750. And the popular combo of facial and Diamond Peel is also back, for only P1,000.
Customers can now also avail themselves of the Club G membership, and enjoy unlimited beauty rewards and free Godiva products with only a minimum purchase of P5,000. The Diamond Peel services can be combined with laser permanent hair removal, photorejuvenation, massage and body scrubs, all at drop-down prices. Club G members get automatic discounts from their purchases, and earn points with the Bring-A-Friend program.
An interest-free installment scheme for three months is also available for all Equitable and Banco de Oro credit cardholders for a minimum purchase of P3,000. This promo is available until November 30, 2005 only.