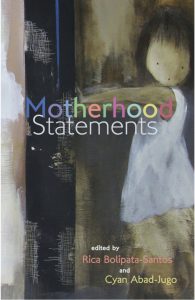 Nanay, mom, mama, nay, inay, mommy, mudra. Many are the names used to call the woman who carried us for nine months, and nurtured us for the rest of our lives until her very last breath. And she is the subject of the book "Motherhood Statements" from Anvil Publishing.
Edited by Rica Bolipata-Santos and Cyan Abad-Jugo, this collection of essays from 30 writers paid homage to the first lady of their lives. Some recollections discussed the dynamics between the writers and their mothers, such as Gilda Cordero-Fernando's making sense of her relationship with her mom (who is seen as playing the bad guy in her eyes). Others talked about being mothered by others, such as the poignant essay of Shakira Andrea Sison's "The Santol Tree"; or the intellectual yet funny observations of Mookie Katigbak Lacuesta in relation to her son and his yaya in "Mothers and Other Bilingual Animals". Even non- traditional families, like a two-mommy household, is discussed in April Timbol Yap's "Not One But Two".
Even sons got into the act, with their varied remembrances tinged with exasperated fondness, heroine-worship, and the understanding acceptance of moms as all- too-human women. It was a treat to read the likes of Gemino Abada, Charlson Ong, Ambeth Ocampo, and Ian Rosales Casocot talk about their mothers through the prism of love.
But it was Mari Jina Andaya's "Living With Mom" and FH Batacan's "To A Friend Who is Losing Her Mother" that struck a nerve too close to home for me. Andaya's piece is reminiscent of wry remembrances of wishing our mothers would tone down their incessant observations/reminders/outright nagging from their breaking-the-sound-barrier level. After Andaya recalls a particular high-decibel lecture, she writes, "Where in the world can you find an alarm clock that sounds like that? AND IT COMES WITH A BUILT-IN MOTHER!" But alas, the alarm clock that is her mother soon disappeared with the advent of Alzheimer's disease, which consumed not only her memory, but also her feistiness and her lust for life. Andaya's essay was a moving remembrance to her mother's memory.
Batacan, on the other hand, writes an epistle to a friend, answering a lot of questions that most children will eventually have to face when it comes to their aging parents. Amidst the advice about health care and dealing with the unexpected, there are also words on things to tell one's mother as the days speed by, even words about the seemingly unimportant. The most important thing, writes Batacan, is just "to tell her."
In the end, however, "Motherhood Statements" celebrates the full spectrum of mothers and mothering. As the book's introduction put it, "At the heart of the universe is the truth that all things come through a mother. That truth colors all our ideas of mothering and being mothered, or, in some cases, smothered."
***This article originally appeared in now defunct ManilaSpeak.com***